Los Angeles Spinal Decompression ®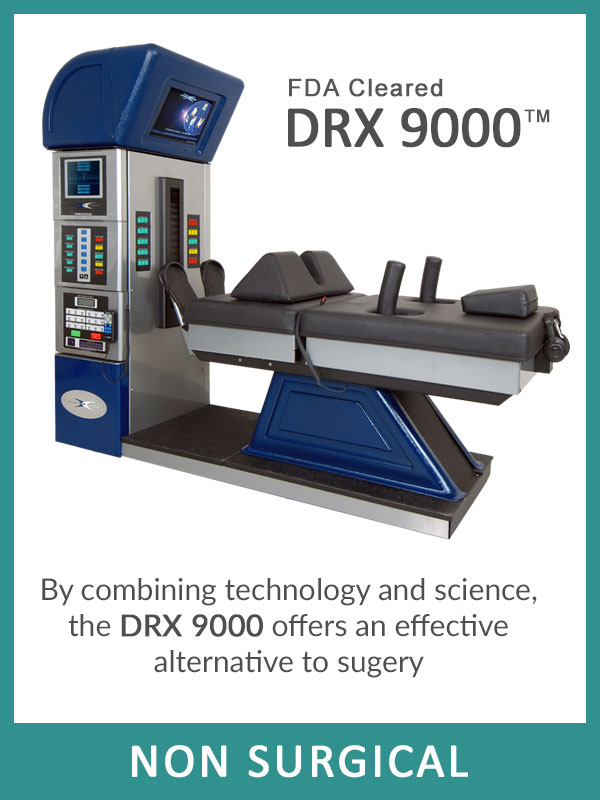 Not all involved nerves might cause pain. Some might affect your metabolism with no pain.
Spinal Decompression is one of the fastest growing treatments in response to the public's desperate need for a non-surgical spinal solution to severe and life-changing back problems. As opposed to traction, which can increase intradiscal pressure and therefore aggravate a protruded, herniated, bulging, and/or extruded disc, spinal decompression has been shown to lower intradiscal pressure by applying axial decompression to the disc level using a logarithmic time force curve bypassing the muscle guarding reflex, thus reducing the disc pressure towards a negative level (American Chiropractor, March 2008). By doing this, it is believed that the disc lesion irritating the nerve root is pulled off the nerve, thus reducing nerve irritation and the pain and muscle spasm that's responding to the sharp, knife-like nerve irritation to begin with.
Our patients are treated with a harness that fits around their pelvic region as well as a thoracic harness while they lie face up on a computer controlled table. Each treatment takes roughly 30 to 45 minutes. The average treatment protocol is approximately 20 to 28 treatments within a five to seven week period of time, depending on the individual's case. (some cases require more treatment). Physiotherapy such as electric stimulation, ultrasound, MedX and or Theraband for strengthening, thermotherapy, and cryotherapy might be used as part of your overall treatment when appropriate. Supplements and swimming might be recommended by the doctor to accelerate the healing process.
We have a high rate of success with Non-Surgical Spinal Decompression, but no procedure is 100% successful. Part of your outcome will be how well you follow the doctor's recommendations to refrain from certain activities and making other suggested activities as a lifestyle for rehabilitation. By adhering to the doctor's suggestions you will increase your chances for a better outcome.
Los Angeles Spinal Decompression ® has been at this location since 2001 and is located near the 10 and 405 freeways. Regarded as one of the most respected back pain specialists in the Los Angeles, we specialize in helping patients with neck and lower back, disc bulge, disc herniation, degenerative disc disease, pars defect, facet syndrome, facet arthrosis, disc narrowing, foraminal stenosis, foraminal encroachment, hip pain, leg pain, arm pain, radiculopathy, tingling and or numbness, spondylolisthesis, lower back pain, sciatic nerve pain specialist, pinched nerve and lipping and spurring. Our constant focus of back and disc problems have allowed us to have tremendous success with accident-related and disc-related injuries.